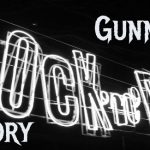 Join Gunner as he goes over all the important Rock dates in history weekdays at 3:50. Relive all the chart-topping moments, milestones, bad breakups and first times again.
There will be no hall pass today. Here's what happened today in Rock N' Roll.
1930 Babe Ruth signs a two-year, $80,000 contract with the New York Yankees.
1942 The first deportation train leaves Paris for the concentration camp at Auschwitz.
1952 Author Douglas Adams (The Hitchhiker's Guide To The Galaxy) is born. He dies in 2001.
1964 Gene Roddenberry pitches a new series to MGM that he describes as "Wagon Train to the stars." That show is eventually turned into Star Trek.
1964 Vinnie Paul (drummer, Pantera, Damageplan, Hellyeah; brother of the late "Dimebag" Darrell Abbott) is born. He dies in June 2018 of heart disease.
1986 NFL adopts the instant replay rule.
1989 "Paradise City" by Guns N' Roses peaks at Number Five on the pop chart.
1989 Anton Yelchin (actor, Like Crazy, Charlie Bartlett, Fright Night, "Pavel Chekov" in the last three Star Trek movies) is born. He dies in a freak car accident at his house in June 2016.
1993 Janet Reno is unanimously confirmed by the Senate to be the nation's first female attorney general.
1994 Siamese Dream by the Smashing Pumpkins is certified double platinum.
1996 Stone Temple Pilots release their third album, Tiny Music: Songs From The Vatican Gift Shop.
1997 The Mighty Mighty Bosstones release Let's Face It.
1999 Kiss singer-guitarist Paul Stanley announces that he'll be playing the lead role in the stage musical Phantom Of The Opera at the Livent Group Pantages Theatre in Toronto.
2002 Two columns of light soar skyward from Ground Zero in New York City as a temporary memorial to the victims of the September 11 attacks.
2003 System Of A Down bassist Shavo Odadjian files a lawsuit against a Detroit-area security company over a 2001 incident in which he was allegedly assaulted by security guards while trying to get backstage at his own band's show.
2005 Coldplay performs a secret show for about 400 people at the famed Troubadour nightclub in Los Angeles.
2009 White Stripes/Raconteurs frontman Jack White launches a new band called The Dead Weather in which he plays drums and contributes vocals. The band, which also features Raconteurs bassist Jack Lawrence, Queens Of The Stone member Dean Fertita on guitar, and singer Alison Mosshart of the Kills, gives its very first performance at the opening of White's new Third Man Records building in Nashville.
2014 311 releases its new album, Stereolithic, the band's first truly independent release since its early days in Omaha, Nebraska. The band also stages its bi-annual "311 Day" concert in New Orleans.
TODAY'S BIRTHDAYS:
Joel Madden (singer, Good Charlotte) (40)
Benji Madden (guitarist, Good Charlotte) (40)
Terrence Howard (actor, Ray, Crash, Hustle and Flow, Iron Man, Dead Man Down, The Butler, Empire) (50)
Thora Birch (actress, Patriot Games, Clear And Present Danger, American Beauty, Ghost World) (37)
Johnny Knoxville (Jackass, The Dukes Of Hazzard, Bad Grandpa) (48)
Mark Metcalf (actor, Animal House's Neidermeyer, Buffy The Vampire Slayer's The Master; played the father in the video for Twisted Sister's "We're Not Gonna Take It") (73)
Sam Donaldson (journalist) (85)
Rupert Murdoch (chairman, News Corp., owner of Fox Network, Fox News, many film, TV, and newspaper properties) (88)
Joey Buttafucco (auto mechanic, lover of Amy Fisher) (63)
Peter Berg (director/actor/producer, Friday Night Lights, Hancock, Battleship, Lone Survivor, Deepwater Horizon, Patriots Day) (55)
And that's what happened today in Rock 'N' Roll…
Powered By: