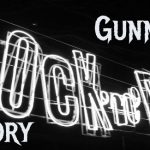 Join Gunner as he goes over all the important Rock dates in history weekdays at 3:50. Relive all the chart-topping moments, milestones, bad breakups and first times again.
There will be no hall pass today. Here's what happened today in Rock N' Roll.
1904 Sam Goody (real name Samuel Gutowitz), the founder of the record store chain named after himself, is born. He dies in 1991.
1913 Actor Jim Backus (Gilligan's Island; the voice of Mr. Magoo) is born. He dies in 1989.
1917 Anthony Burgess, author of A Clockwork Orange, is born. He dies in 1993.
1943 Beatles guitarist George Harrison is born. He dies in 2001.
1977 The movie Slap Shot, starring Paul Newman, Strother Martin, and Michael Ontkean, opens.
1983 Playwright Tennessee Williams (The Glass Menagerie, A Streetcar Named Desire, Cat On A Hot Tin Roof) dies at age 71.
1984 "Jump" by Van Halen hits Number One on the pop chart.
1987 The Van Halen concert video Live Without A Net is certified platinum
1992 Pearl Jam's debut album, Ten, is certified gold.
1992 At the Grammy Awards, Jimi Hendrix is posthumously awarded the Grammy Lifetime Achievement Award; the Red Hot Chili Peppers win Best Hard Rock Performance for "Give It Away"; Nine Inch Nails wins Best Metal Performance for "Wish"; and U2 wins Best Rock Performance By A Duo Or Group With Vocal for Achtung Baby.
1994 Suede announces that it will be known in the U.S. as the London Suede after being sued by a singer who calls himself Suede.
1997 Marcy Playground releases its self-titled debut album.
1997 Eddie Van Halen is named Best Male Rock Guitarist at the 1997 Orville H. Gibson Guitar Awards in New York.
1998 At the Grammy Awards, the Beastie Boys win Best Alternative Performance for Hello Nasty.
1999 A jury in Jasper, Texas, sentences white supremacist John William King to death for chaining James Byrd Jr., a black man, to a pickup truck and dragging him to death.
2000 A jury in Albany, New York, acquits four white New York City police officers of all charges in the shooting death of unarmed African immigrant Amadou Diallo in the doorway of his Bronx apartment building.
2003 The surviving members of Great White are subpoenaed to appear for questioning before a Rhode Island grand jury, in connection with the band's pyrotechnic fire disaster that killed 100 people at the Station nightclub.
2004 The Darkness lead singer Justin Hawkins reveals that he has received death threats in the mail.
2006 The world's estimated population reaches 6.5 billion.
2009 Following weeks of speculation and reports of confirmed live dates, Faith No More officially announces that it is reuniting after 10 years.
2013 Trent Reznor announces that he is officially resurrecting Nine Inch Nails after a four-year break for a new album and tour.
2018 The Black Keys perform together for the first time in two-and-a-half years, when frontman Dan Auerbach is joined by drummer Patrick Carney during the singer/guitarist's Easy Eye Sound Revue tour stop at Nashville's Ryman Auditorium.
TODAY'S BIRTHDAYS:
Bert McCracken (frontman, the Used) (37)
Rashida Jones (actress, The Office, Parks & Recreation, The Social Network; daughter of Quincy Jones and Peggy Lipton) (43)
Chelsea Handler (comedian/actress, Chelsea Lately) (44)
Sean Astin (actor, the Lord Of The Rings movies' Samwise Gamgee) (48)
Tea Leoni (actress, Deep Impact, The Family Man, Jurassic Park III; wife of David Duchovny) (53)
Sally Jessy Raphael (former talk show host) (84)
And that's what happened today in Rock 'N' Roll…
Powered By: